Press
Sensual dance in Brøndsalen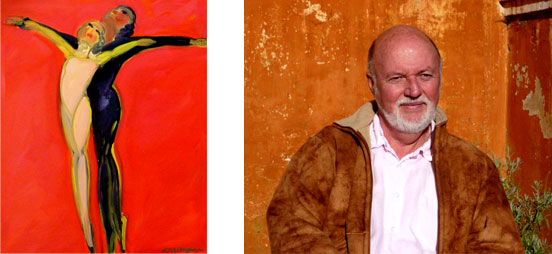 The painter Hans Voigt Steffensen is displaying a solo exhibition with new pieces of art in Feb. 2011.
Sensual ballet dancers, sweeping tango couples and fiery flameno dancers fills Brøndsalen in Haveselskabets Have in Fredriksberg during most of February 2011.
It is the painter Hans Voigt Steffensen who temporarily moves in to this historical space with a solo exhibition that will include a big series of new pieces – oil and gouache paintings with strong, colourful dance themes. Additionally you can also enjoy his landscape pictures from Denmark and travel motives from Venice and Sicily.
Exclusively, Hans Voigt Steffensen also exhibits a collection of drawings from the Royal Theatre, where he has had a place, drawing from the live scene since 1976.
"It is in itself a challenge to create an art exhibition, in such a special and beautiful room as Brøndsalen", says Hans Voigt Steffensen. "I am very fascinated by the possibilities offered by the location and light. Especially oil pantings will be well suited for Brøndsalen".
The exhibition opens up Thursd. Feb 3rd and closes after Sund. Feb 27th 2011.